Happy Couple University
Where Happy Couples Learn To Build Deeper Intimacy and Unhappy Couples Repair Problems and Fall In Love Again.... in Eight Weeks or Less
Benefits of Happy Couple University
You will learn how to deepen intimacy with your significant other and even save your relationship if you are currently very unhappy.

You will go through a series of videos and exercises that will give you tools to increase your relationship satisfaction - even if your partner does not take the course with you.

You will receive a coaching package with one on one virtual sessions with Dr. Stephanie. She will help you with HOW TO apply what you are learning to the particulars of your relationship.

You will learn how to prevent future resentments and problems from building up over time - reducing your risk for a breakup, separation, or divorce.

You will be able to see how to repair problems with your partner through video teaching and role plays.

You will be informed about what research says about how to be a Happy Couple for years to come.
Your Instructor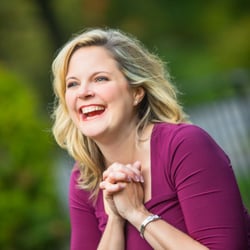 MY STORY
When I was about six years old, remember being in the waiting room at the marriage counselor's office where I played toys with my younger sister while my parents spoke with the doctor. This experience helped my parents to work out problems and fighting that they were experiencing in their own marriage. Later I remember playing basketball in high school, and it was my parents who had not only stayed married... but they showed up holding hands and sitting close to each other on the bleachers! This experience is definitely one of the reasons why I chose to become a Couples Therapist...
While I was in college at Creighton University in Omaha, I decided to study business and psychology. I loved talking with people one on one about whatever was deeply on their mind. By nature, I had always been very scholarly, so before I knew it I was the first person in my extended family to be going to graduate school. I was chosen for an elite program in Marriage and Family Therapy which I studied for the next five years to get my doctorate degree.
Ironically, while engaged in studying to be a Couples Therapist, I was in a romantic relationship that was more Unhappy than it was Happy. I experienced what it was like to feel helpless when I would bring up complaints and my partner would get defensive each and every time. It was horrible! I am a pretty humble person and willing to apologize so being with someone who rarely, if ever took any responsibility for his actions was a real life lesson that prepared me for my career. That relationship failed, however because I experienced what it was like to be in an Unhappy Relationship - I became completely motivated to find solutions for other people.
During my 30's, I married my sweetheart Brendan and by this time I was living on the East Coast in Metropolitan Washington D.C. I was running a busy private practice while Brendan was selling Steel Buildings all over the Mid-Atlantic. Our relationship was more Happy than Unhappy but we still had to make some tweaks. I would sometimes bring up complaints in the wrong way, and Brendan would then get defensive. (This is the same problem many couples have). I was also working with a lot of customers who were successful in business but who needed help with complaint resolution in their love life, and I was eager to find something to help them!
I started using the metaphor of having a Customer Service Counter for your relationship (I call this having a Relationship Repair Counter). People could relate to this... including my husband who had been involved in the corporate business world most of his career! My customers had Aha Moments and this became a regular metaphor in my private practice and in my own love life. My customers started to talk about having a Relationship Repair Counter as a regular part of their conversations and they were becoming more Happy than Unhappy as a result!
I don't know about you, but I fall deeper in love with a business when it gives good customer service, and I become more loyal to that brand. On the flip side, if I get bad customer service I definitely become not so enthusiastic and start to consider doing business elsewhere. I believe this is true for people's love life as well. In my own love relationship, when I feel concerned about something and my husband values me by opening his Relationship Repair Counter to find a solution, I have more loyalty and more admiration for him. I fall deeper in love with him every time we work out a problem. Likewise, if we do not work out a problem, I feel less closeness, affection, and interest in him. Make sense?
I now believe excellent complaint resolution is the core of what keeps people falling in love over and over again (or falling out of love). Prominent marriage research by Dr. Gottman and colleagues supports good complaint resolution is a primary predictor for relationship success ...and so does common sense! However, knowing how to provide good complaint resolution takes some teaching and some practice, which is the focus of Happy Couple University.
My happily ever is pretty great! Like most couples, Brendan and I struggle with the stress of balancing our careers and three children. We have teens who are becoming successful young adults but it's not without strife and late night discussions. And our youngest child has autism, which has put our marriage in a higher risk category for failure…. But we have withstood those challenges.
People who know us well want what we have built… love and intimacy and loyalty for each other. And I am going to show you how to build it all with you here in this class. I can't wait to demonstrate for you what works and to see how it helps your love life and your passion. I pray that Happy Couple University will help your family (or future family). Our country and our world are only as strong as our families, and the happiest families are often built on the solid foundation of a Happy Couple... I want you to be stronger and happier than ever! No matter what you are going through… I want you to triumph!
So, let's do this… with your hard work and desire to have a Happier Relationship and with my knowledge and experience. We got this!
Frequently Asked Questions
When does the course start and finish?
The course starts when you enroll and is designed for 8 weeks to deepen and reclaim your relationship happiness. Each week there is 1-2 hours of material as well as exercises and homework to complete, plus your one on one coaching time and emails with Dr. Stephanie. To improve your relationship, you will definitely need to put in the time and effort for the next 8 weeks. Although the course is designed for 8 weeks, if it takes you a bit longer, no worries you will have lifetime access to the videos and information. You will also have access to your five one-on-one coaching sessions with Dr. Stephanie past the 8 week point should you need to stretch them out due to a busy schedule or life circumstances.
Is this course religious?
No, although some marriage and relationship classes are based within a religious framework, this one is not. If you are seeking a Christian Marriage Course, stay tuned for Happy Christian Couple University launching soon.
What if I have a tight budget and the enrollment fee is a lot for me?
How much would you pay for a down payment towards happiness for the rest of your married life? What do you pay for a vacation to try to find happiness? What did you pay for your wedding? If you want excellent marriage coaching and teaching at your convenience by one of the best trained marriage therapists, then think about what your relationship is worth to you and how you are going to do the financial and practical work to make it happen!
What if I need additional help with my relationship that the course does not provide?
This course will have everything you need to deepen and save your relationship! In addition to the videos, teaching, and exercises - you will receive email access to ask Dr. Stephanie questions for support and intervention ideas. Of course, you will also have one on one coaching sessions with Dr. Stephanie to learn how to apply everything you are learning to your particular relationship!